Dr. Urs Aebischer
BILANZ Top100 Digital Shaper
Reinventing Social Media
DISEO is the ethical alternative to BIG SOCIAL. It solves the Social Dilemma by offering data control and monetization to consumers through democratization. It has the viable potential to turn into an ultra-high growth opportunity.
Do you you believe it's time to solve the Social Dilemma – to empower users to control their data and brands to access their customers without dependency on Big Social?
We believe it's the perfect timing and we are ready with a fair share global social ecosystem where everyone wins and therefore can scale big.
Connect
Request Meeting
Please leave your details to schedule a meeting with the CEO.
Newsletter Signup
Stay updated on the DISEO success story.
BILANZ Digital Shapers (German)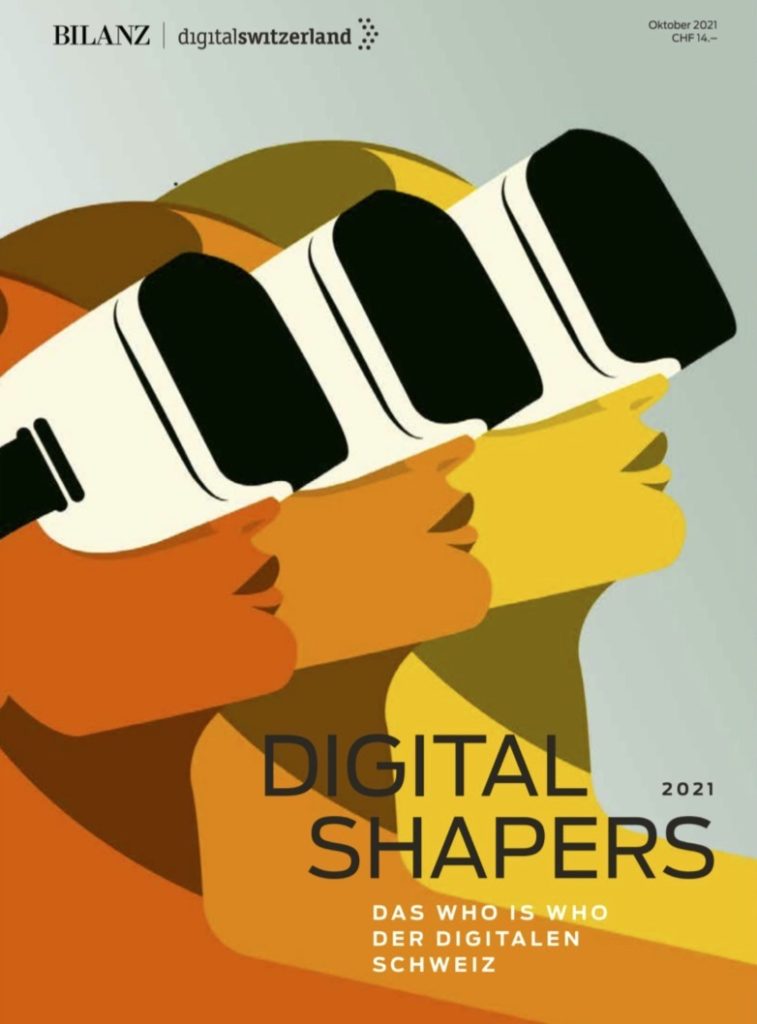 Urs Aebischer

Schweizeraktien.net (German)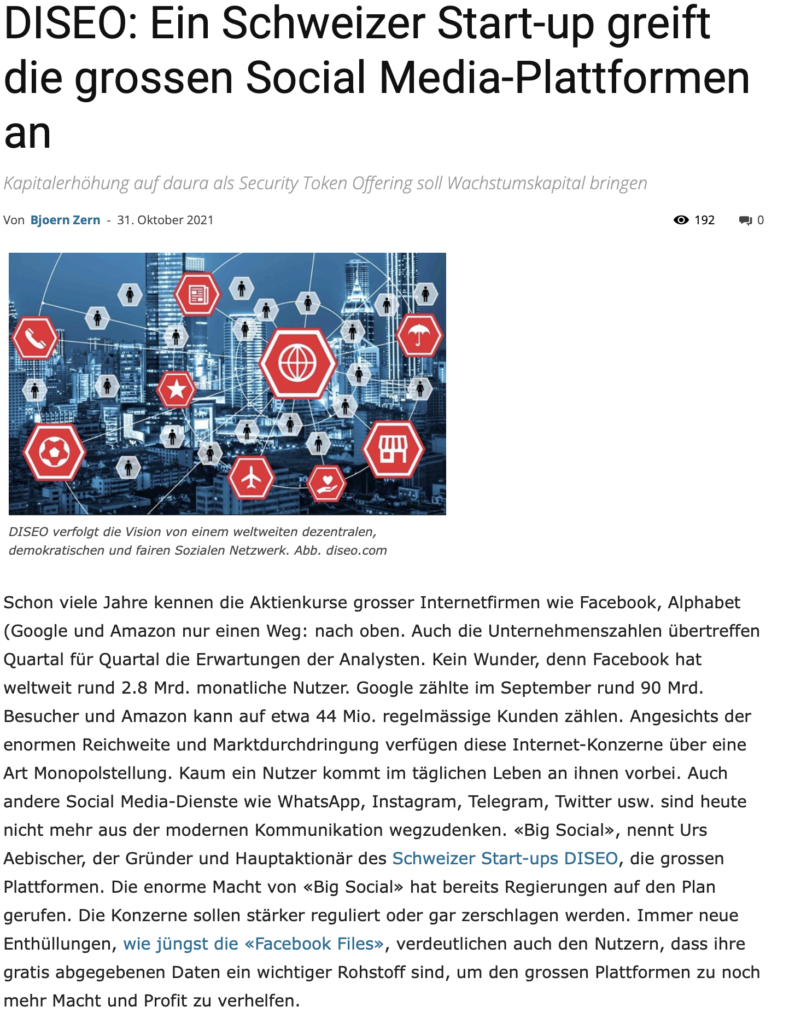 Disclaimer
The Company's offer for the acquisition of shares or participation certificates does not exceed a total value of 8 million Swiss francs over a period of 12 months, so that the Company is exempt from the obligation to prepare a prospectus pursuant to Art. 26 para. 1 let. e of the Swiss Financial Services Act of June 15, 2018 (FIDLEG). However, the Company has prepared an Information Memorandum available on daura.ch which contains comprehensive information. 
The distribution of Information relating to the issuance of shares or participation certificates by the Company may be subject to restrictions in certain jurisdictions. Natural and legal persons who come into possession of such Information must inform themselves about such restrictions and comply with them. Failure to comply with such restrictions may constitute a violation of legal or other requirements in the relevant jurisdictions.
The Company does not accept any responsibility for any violation by any person of any such restriction.

Such Information contain forward-looking statements that express intentions, beliefs, expectations and projections regarding future financial, operational and other developments and results. These statements and the assumptions underlying them are subject to numerous risks, uncertainties and other factors that could cause actual developments to differ materially. Given these uncertainties, readers of such Information should exercise caution and not place undue reliance on these forward-looking statements. It should also be noted that market data and valuations as well as past trends and valuations described in this Information are no guarantee of the future development and value of the Company.
It is recommended that you read all available documents that are available on the Daura.ch platform in its entirety before considering an investment. It is not guaranteed or warranted by the Company that the available information is complete or accurate as of any subsequent date. Changes may occur after the publication date with respect to the statements contained in such Information. The Company assumes no obligation to inform you of any subsequent changes in the facts, unless required to do so by law. Potential investors should seek advice from their legal or tax advisor in order to clarify any special circumstances with regard to legal and tax consequences.
Nothing in such Information constitutes an offer to sell or the solicitation of an offer to buy any security. The distribution of shares of the Company will not be, and is not required to be, registered with (i) the U.S. Securities and Exchange Commission (the «SEC») or (ii) any U.S. state securities commission or regulatory authority. Neither the SEC nor any U.S. state securities commission or regulatory authority has approved or disapproved the distribution of securities of the Company or passed comment or opinion upon the accuracy of available information.

Newsletter Signup
Stay updated on the DISEO success story.
Invest
Get your shares before fully subscribed.
Register as investor on Daura and subscribe for shares of DISEO